Lines for the Container Industry
Few industries demand the equipment precision and reliability require by manufacturers of food and beverage containers. As the material gets thinner, coils get wider, and the presses get faster, the need for precision coil handling and press feeding equipment that can keep pace gets greater.
Coil Feeding Systems
Perfecto manufactures a full line of coil feeding systems to meet your demanding specifications. From coil cars and upenders to electronic roll feeds and zig zag press feeds… Perfecto can help make your system more efficient and reliable.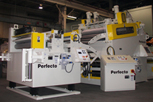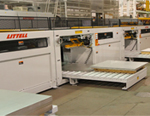 Scroll Sheeting Systems
With over 300 scroll lines installed worldwide, our sister company Littell sets the standard for the container industry in speed, accuracy, quality, and reliability. Supplying over 90% of the worldwide demand for this specialized equipment, our commitment to continual product development insures process superiority and investment advantages for our customers.